Frequently Asked Questions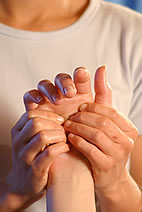 1. What is a Massage Therapist?
Massage therapists have completed many hours of education, which include a variety of bodywork techniques, extensive anatomy and physiology, and knowledge of when massage is and is not appropriate. Most states license massage therapists.
2. Who can benefit from massage?
People with:
*Joint pain
*Neck pain
*Stress in their life
*Body aches
*Certain illnesses
*In short, everyone can benefit from massage
3. What does massage do to the body?
*Improves the nutrition to all parts of the body.
*Increases the removal of body waste.
*Increases lymphatic and blood circulation.
*Increases heat production.
* Increases the development of muscles and related connective tissue.
4. What should I do during a massage?
Make yourself comfortable. If your therapist wants you to adjust your position, she will either move you or tell you what is needed. Many people just close their eyes and relax completely during a session, however others prefer to talk. It's your massage, so do whatever feels natural to you and just relax.
5. What is the first appointment like?
Your massage therapist will start your session by asking you some general health questions since there are some conditions that may make you ineligible for massage therapy. Depending on the primary technique your therapist uses, you may or may not need to undress.
For a full body Swedish massage most people undress completely but you can choose to wear underwear if you want. Your massage therapist will give you privacy to undress, and you are covered except for the area being worked on.
You will relax on a heated, padded massage table designed for stability and comfort. The room will be warm and quiet and soft music sets a relaxing mood. For many techniques lotion will be used which is good for your skin and absorbs well.
5. How will my massage feel?
Massage on healthy tissue feels good. The normal response is to slow down, breathe deeply, and relax. Some people are surprised to find that a massage does not tickle. Your massage therapist uses gentle but firm pressure, gradually preparing you for deeper touch. As the massage therapist is performing your massage please give them feedback on the pressure, if it is too light or too firm let them know so the pressure can be adjusted to give you the best massage. The most effective and deepest massage works with the body's natural responses not against them. Working in the area of an injury or chronic pain may at first cause some discomfort, but usually lessens in the first few minutes. 
6. Will I be sore after my massage?
If a client receives a deep tissue massage for the first time they may be sore the next day. This is caused by the release of lactic acid from your muscles during the massage. Lactic acid will redeposit in the muscles if it is not cleansed from the body so drinking plenty of fluids, like water, after a massage to wash the lactic acid away.
7. Do you tip after the massage?
Tips are not expected, but are appreciated. To tip or not to tip is completely up to the client.